Effective security operations start with a complete approach to data.
To effectively detect, investigate and respond to today's complex threats, organizations need access and long-term retention of all security data, without compromise.
While SIEM suffers from unworkable cost models, lengthy data onboarding processes, and limited data capacity that undermine SOC effectiveness, Hunters provides unlimited, seamless data ingestion at a predictable cost.
Hunters SOC Platform deploys built-in data engineering capabilities to an embedded Snowflake Data Lake, applying ETL and schema mapping - making the data ready and available to be used for threat detection and response.
Unlimited TB/day
data ingestion capacity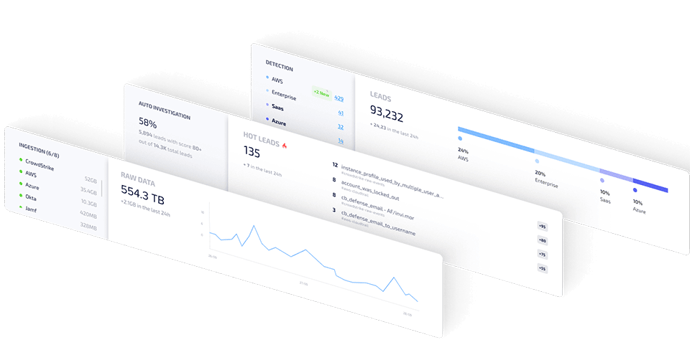 Cloud-native, scaled infrastructure
Embedded data infrastructure by Snowflake, providing unlimited security data retention and analytics, at a predictable cost
Unlimited data ingestion & retention
Unlimited data ingest capacity covers tools from your entire IT and security stack
Seamless data pipelining
Hunters uses cloud connectors, API's and data engineering tools to pipe in data from existing tools, offloading data engineering burden
Built-in Security ETL
Self-served lift and shift capabilities allowing easy migration from SIEM and log management systems
What does the Hunters Data Engine do for you?
Ingest all available data without compromising on data sources
Lift and shift security telemetry to a modern data cloud
Automatically apply structure to raw data for effective correlation, search and investigation
Apply cost-effective, always-available hot storage of data for rapid incident investigation